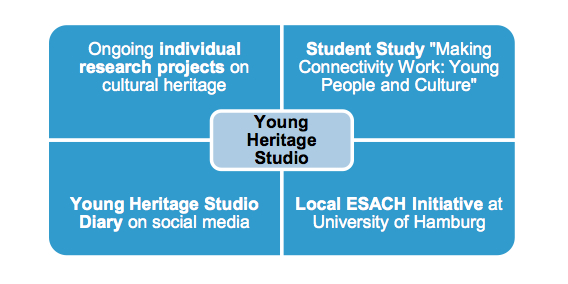 seminar
Student Study "Making Connectivity Work: Young People and Culture"
This semester, the Young Heritage Studio will conduct a student study with the title "Making Connectivity Work: Young People and Culture" at the Institute of European Ethnology / Cultural Anthropology, University of Hamburg.
The aim is to create an analysis (and typology) of successful projects that already reconnect young people to society in the cultural field and beyond.
The questions posed include the following:
‣To what extent is cultural heritage important for the young in Europe?
‣Which perspectives and motives do emerging researchers have that make them want to explore cultural heritages?
‣Which heritage sites do young people regard as meaningful and relevant to their everyday life? What significance do young people attribute to different cultural traditions, objects, manners of expression?
‣How does cultural knowledge circulate in their everyday life? How do they develop it further while being considerate to social and cultural change?
For more information on upcoming seminars click here.